Phnom Penh (FN), June 25 – JC(Cambodia)International Airlines (JC Airlines in the following) will launch "Siem Reapd–Sipsongpanna" route on the 1 July 2019. Flight schedule is attached below, and specific information is on our website: www. jcairlines.com.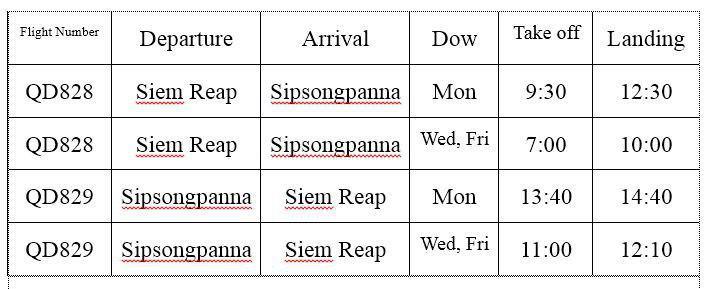 Sipsongpanna is an autonomous prefecture of Yunnan province, enriched with ethnic minorities, natural landscapes are strange, and traveling attractions. Sipsongpanna has the only Tropical Rainforest Nature Reserve in China. It is also the National Ecological Demonstration Zone, National Scenic Spots, and the member of United Nations Biodiversity Conservation Circle. Therefore, many tourists all over the world visit Sipsongpanna to experience the original tropical setting.
Siem Reap hosted many capital cities of Khmer Empire. It is the birthplace of Khmer culture, home of the the Angkor Wat, the world's famous cultural heritage.
Siem Reap and Sipsongpanna are cities of many attractions. The new route is not only convenient for the trip for passengers who come from the two cities, but also promotes the integration of two places' traveling resources. Culture is the precious treasure of human race. The new route would certainly promote the communication and mutual learning on culture of the two places.
JC Airlines is following the route of the "belt and road" initiative, and we have launched dozens of flight routes across Cambodia, China, and South-east Asian regions, as well as created many job opportunities for the local Cambodian people. We strive to provide the best service to fulfill our commitments to "Development of Cambodian Economy and Cambodian Civil Aviation".
Come and join us to explore "Siem Reap–Sipsongpanna". We have three options of gifts for all the passengers.
1. The first five passengers who books the ticket for "Siem Reap–Sipsongpanna" route will get the JC Airlines' ticket of Phnom Penh–Siem Reap route for free (fuel expense and tax are not included, expiry date priors to 30 July 2019. For specific details for ticketing conversion please dial (+855)185-666-888)
2. Passengers of the first flight of Siem Reap–Sipsongpanna route can will receive a delicate gift.
3. People who share the information from JC Airlines' official communication channel, including Weibo, Facebook, and Wechat and get 100 or more "likes", will get an aircraft model. (Send the screenshot to liurenyu@jcairlines.com, and remark your address and contact information, the first 50 e-mail will each reward the prize).
=FRESH NEWS