BANGKOK, May 3 (Xinhua) -- A number of fishing trawlers of Thai fishermen will be turned into artificial, undersea reefs as part of the Thai government's crackdowns on illegal fishing industry.
Thailand's Command Center for Combating Illegal Fishing spokesman Vice Adm Jumpol Lumpikanond said on Tuesday the government has approved some 3 million U.S. dollars in funding for the navy-run agency to buy 51 push-net trawlers from the fishermen and sink them into the sea off Samut Sakorn province on the southwestern outskirts of the Thai capital and off Surat Thani province in southern Thailand.
Those trawlers will eventually become undersea habitats for aquatic animals and plants in years to come, the admiral said.
He declined to say whether any more fishing boats, especially equipped with push-nets, might probably be bought from fishermen and be disposed of on such purposes.
The purchase of push-net trawlers is primarily designed to reduce the number of that type of fishing boat which might possibly be used in illegal, unregulated and unreported fishing industry in Thai territorial waters as earlier alleged by the European Union.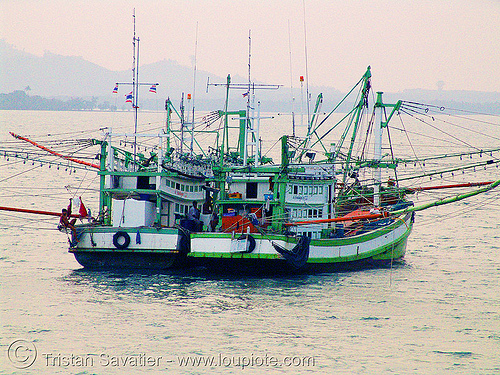 ">